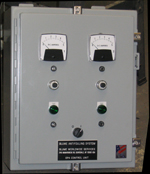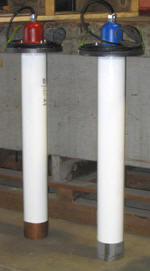 Features - Blume Antifouling System®

The Blume System employs:
variable current control that improves effectiveness and reduces annual operating costs

anode wear monitoring device incorporated in the anodes and control panel that

tests circuit continuity and signals when a fault exists

provides visual notice (audio or remote alarm contacts optional) of anode renewal requirement

automatically shuts off power to anode to prevent compromising safety of mounting assembly

Control Panel

provides positive voltage and amperage control with independent ammeter for each anode to provide instantaneous readout of complete system condition

features rugged construction, easy access for servicing and moderately priced components to help reduce system maintenance expense

either standard or explosion-proof control panels for hazardous environments (e.g. oil and gas platforms)

Anodes

supplied completely assembled to minimize on-site work required and to ensure trouble-fee operation

large diameter anodes afford greater design flexibility

coated anodes assure bottom-up wear, preventing "hour-glassing" and potential break-off (and damage to pumps, etc.)

all anode mounting is from inboard

solid mounting bolt design provides higher shear strength, maximizing system safety

Made in USA
Blume Worldwide Service's design capabilities are based on the broadest range of marine and offshore installations, backed by over 30 years commitment to technology and equipment development. Our varied experience enables us to meet any customer design requirements.