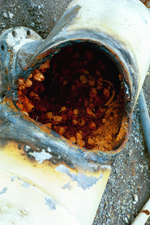 Benefits - Blume Antifouling System?/font>

Stop marine growth
Inhibit corrosion
Reduce scale formation

Marine organisms growing in sea water intakes, pipes, valves and pumps can critically impair the operation of ships, offshore drilling rigs, oil and gas platforms and coastal installations. As marine organisms attach and grow in sea water intakes and pipes, they can eventually clog the entire cooling and service water systems.

The Blume Antifouling System ensures safe and efficient operation of ships and facilities. It prevents marine growth, inhibits corrosion and reduces scale using a proven, simple, cost-effective technology for marine antifouling.

The Blume Antifouling System also reduces planned and unplanned maintenance resulting from piping deterioration and equipment replacement. It helps reduce indirect expenses and downtime associated with spare parts inventory control, purchasing, shipping and administration.