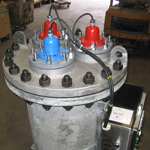 Blume Worldwide Services

Blume Worldwide Services was founded in 1977 to provide quality products and services to the marine and offshore oil and gas industries. Since its inception, BWS has been a leader in developing, manufacturing and marketing copper ion based marine growth control technology. The result has been the evolution of the Blume Antifouling System® for sea water biofouling control and, subsequently, the MacroTech® fresh water biofouling control system.

Blume Worldwide Services has the experience, technology and facilities to ensure the continued world leadership of the Blume Antifouling System.